View from the screened porch
Share this page: Facebook LinkedIn Pinterest Twitter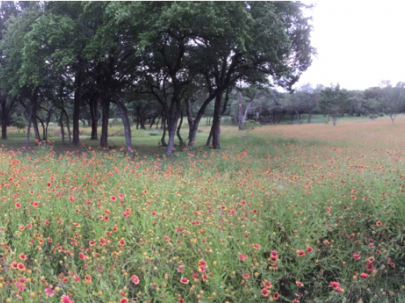 We can't let the corona virus ruin the enjoyment of the Texas Hill Country wildflowers! The Hill Country is a kaleidoscope of colorful flowers and you can enjoy their beauty right from your vehicle!
A premiere destination is Willow City Loop, a 13 mile drive near Fredericksburg, of winding, scenery blanketed in breathtaking bluebonnets along the trails and creeks. Since it borders private property, this is not an area to stop for photos.
However, you can find places to stop and take photos as you continue driving on to Highway 281 toward Blanco. Enjoy a vibrant palette of Indian Paintbrush, red poppies and purple verbena along with the bluebonnets. When you find it safe to park your vehicle, stop and get a selfie. You won't want to forget Spring 2020, well perhaps some of it, like why you're cloistered at home. Though taking a drive through the Hill Country will lift your spirits.
Drive on through Blanco State Park and take in the beauty of the Blanco River. Travel on from Blanco to Wimberley and you will pass right by BellaVida Bed and Breakfast. Ring us from the gate and say hello. Or, come on in and we'll take your photo among our variety of wildflowers (from a safe distance) and immediately text it to you.
As we enjoy the first emergence of wildflowers, Indian Blanket flowers are preparing for their grand entrance and typically last until early June. Hopefully you can plan a real get-away by May and enjoy them from our screened-in porch while dining on a scrumptious breakfast!
Add comment
Recent Articles