The Most Romantic Stay in Wimberley
Share this page: Facebook LinkedIn Pinterest Twitter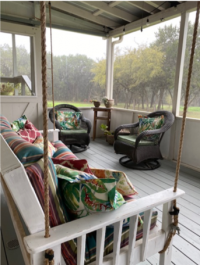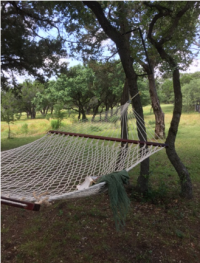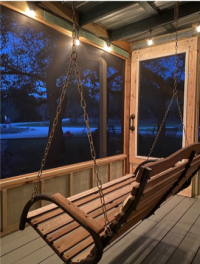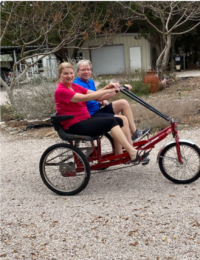 "I'll take you anywhere in the world you want to go for our anniversary," my husband offered. I pondered this for a few weeks. ANYWHERE in the world. Where did I want to go?
Perhaps I should mention now, I was already booked to accompany him on a 10-day business trip to Malaysia, my second one there, where I had enjoyed our hotel while he worked. I read books, wasted time on my laptop, got a massage, walked to the nearby mall for lunch, and people watched. At the end of his work-week we would spend a few days sight-seeing.
Now I could select an anniversary location anywhere in the world. I thought of our previous anniversaries, not the milestone this one was. We often spent a weekend at a bed and breakfast. We spent one in San Antonio at the River Walk. Another was in the King William Historic District, Fredericksburg shopping before it became a wine-tasting destination. I would say, at all of them, we walked, shopped and often took in a movie. And now, I could go anywhere in the world!
"I know where I'd like to go for our anniversary. Summers Mill and stay in the Lone Star Cabin." It's a wonder Steve didn't fall down dead! Summers Mill was an hour drive from our home and a place I had hosted annual scrapbooking retreats for more than a decade.
It was the best anniversary celebration. We practically had the place to ourselves. We walked the creek and talked to the exotic animals. We sat on the cabin porch, going through our scrapbooks, reading our old love letters and sentimental cards to one another I must confess Steve is the thoughtful romantic and secretly brought the mementos.
"Could I just dream with you for a minute?" I asked. "Someday when you retire, I'd like to move to a small town, maybe start a little bed and breakfast, plant a garden."
His response: "I can till a garden too, just don't nag me."
So here we are, "we're living the dream" as we say to each other tongue-in-cheek" when we're exhausted. If Steve offers to take me anywhere in the world I want to go for our anniversary, this time I'll choose BellaVida Bed and Breakfast. We can sit out on the screened-in porch, talk to the chickens, watch the sunset, reminiscence, and wonder who is cooking breakfast for us?
If you're searching for a romantic stay, check out some of our rooms - here!
Stay tuned for Romantic Places to Eat.
Add comment
Recent Articles