Unraveling Creativity: A Textiles Retreat for Women
Belinda Howard Smith
Share this page: Facebook LinkedIn Pinterest Twitter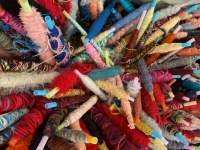 Are you seeking a retreat that weaves together relaxation, creativity, and the opportunity to connect with like-minded creatives? Look no further than a textiles retreat in the beautiful Texas Hill Country where women gather to learn, create and make new friends. Here's a glimpse into the wonderful world of textiles retreats and why they're becoming increasingly popular.
Learn to Weave, Knit, Felt, Crochet and Create:
Whether you're a complete beginner at weaving, knitting, felting, crocheting, or a seasoned pro, a retreat often offers workshops and classes for all skill levels. Learn the soothing rhythm of weaving on looms, enjoy time knitting, and explore the limitless possibilities of creating unique textile pieces. A retreat provides a nurturing environment where you can immerse yourself in these crafts without the distractions of everyday life.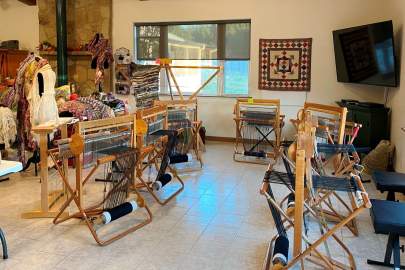 Discover New Techniques:
Local artist, Kathy Utts, owner of Wimberley Valley Saori hosts an annual Texas FreeStyle Textiles Retreat in Wimberley, Texas as well as classes at her art studio. At the Texas FreeStyle Textiles Retreats expert instructors and knitting "rock stars" lead workshops that go beyond the basics, unveiling advanced methods and trends in textile art. You'll be amazed at the innovative and creative ideas you can incorporate into your projects, igniting your passion and inspiring fresh designs.
Where to Stay:
Many attendees stay at BellaVida Bed and Breakfast where there are numerous places to gather in the evenings and socialize,crochet or knit and create while enjoying the screened porch or in one of cozy living areas. BellaVida feels like home. Indulge in complimentary fresh baked goods, fruit, and plentiful snacks.
Each morning wake up to the aroma of a sumptuous scratch-made breakfast prepared by owner-innkeeper Belinda Smith. Breakfast is served year-round on the back screened porch, except in inclement weather then it's at the warmth of kitchen dining area.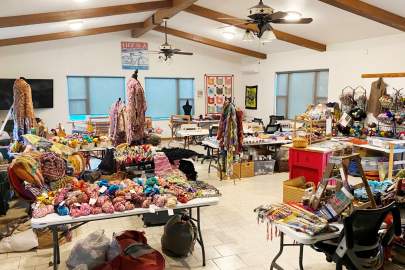 Shopping Opportunities:
Vendor markets or pop-up shops offer the opportunity to indulge your inner textile enthusiast with stunning fibers and color selections. From hand-dyed yarns and exquisite weaving supplies to beautifully crafted knitting needles and unique textiles, you'll find a treasure trove of items to enhance your creative journey. These retreats are perfect for treating yourself to high-quality materials and tools while supporting independent artisans.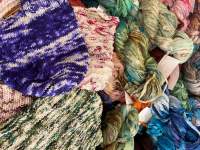 Wimberley, a unique, tourist favorite is home to specialty boutiques and art galleries within walking distance on the Wimberley Square, as well as chef-owned restaurants. Additionally, Wimberley is home to two locally owned quilt stores:Fabric Frenzy and Wimberley Quilt Shop!
Meet New Creative Friends:
The social aspect of textiles retreats is an added bonus. You'll connect with women who share your love for creating with textiles, forming bonds that can last long after the retreat ends. Sharing your experiences, learning from each other, and collaborating on projects fosters a supportive and inspirational community. Whether you're a solo adventurer or you bring along friends, you're bound to leave with a heart full of new friendships and creative partnerships.
In a world that often feels fast-paced and digitally-centered, textiles retreats and other retreats such as quilt and scrapbook retreats offer a unique opportunity to slow down, reconnect with your creative side, and form meaningful connections with others.
These retreats provide a space where women can explore their artistic talents, hone their skills, and escape the hustle and bustle of daily life.
So, if you're yearning for a retreat that allows you to weave, knit, create, learn, shop, and meet new creative friends, a retreat may be just the haven you've been searching for. Whether you're a seasoned artist or a newbie eager to embark on a creative journey, a retreat promises to be a memorable and enriching experience.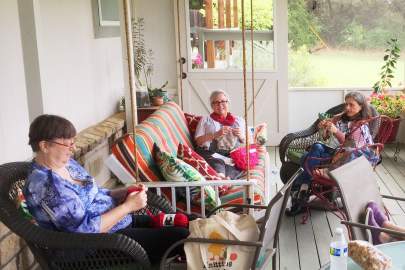 BellaVida Bed and Breakfast and Retreat Center is the perfect venue to host a retreat for up to 16 overnight guests, or for those desiring a quick get-away, simply book a bed and breakfast stay at BellaVida for yourself or for a group of friends and enjoy the Gathering Room for creating!
Add comment