She Wanted a Greenhouse
Share this page: Facebook LinkedIn Pinterest Twitter
She Wanted a Greenhouse
I wanted a large greenhouse. I envisioned it as a place in cooler seasons for guests to enjoy a massage. A greenhouse with a farmhouse table for a brunch, perhaps an intimate wedding, and in winter it would keep our numerous potted plants safe from a freeze.

And for a few years I collected vintage windows. Summer of 2019 Steve and I had a quote from the carpenter for a large greenhouse.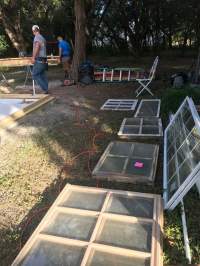 Then Steve said, "We need more lodging." So, we switched gears and told the carpenter we were building a bedroom and began our plan-as-you go construction project which is not a good idea, nor cost effective. We measured how much foundation was needed for a bedroom and bath. The workers began and I, one who plans with imagination and vision, had no mental picture of what this was to look like.

Neither Steve nor I can quite recall exactly when the greenhouse turned bedroom became a chapel. Perhaps it was all of the vintage windows laid in the grass. Our bed and breakfast guests began asking about the ability to use it as a real chapel rather than a bedroom. The challenge: Where would we move the bed?
During construction a biblical scripture often came to mind: Luke 14:28-30 "Suppose one of you wants to build a tower. Won't you first sit down and estimate the cost to see if you have enough money to complete it? For if you lay the foundation and are not able to finish it, everyone who sees it will ridicule you, saying, 'This person began to build and wasn't able to finish.'"
Fearful we might be taking the wrong path, we were encouraged by the numerous signs we encountered along the way - assurance that building a chapel was the right thing to do. Our greenhouse that became a bedroom and chapel was completed in January 2020.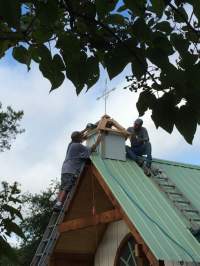 Howard Chapel is named in honor of my parents, Fred D. and Sarah Howard (both deceased) who spent their lifetime serving God. Dr. Howard was a professor and Head of the Religion Division of Wayland Baptist University and prolific writer. Sarah, held a degree in Religious Education from New Orleans Baptist Theological Seminary, was a career elementary school teacher, and an active member of their local church.

The cross on the top of the cupola was originally purchased in 2000 while returning home from Dr. Howard's funeral. It was originally placed in the front yard of our home in Austin, Texas and remained there until 2014. When we moved to Wimberley and established BellaVida Bed and Breakfast the cross was placed in a Meditation Garden at the back of the property. During construction of Howard Chapel Steve suggested painting the rusted cross for the cupola.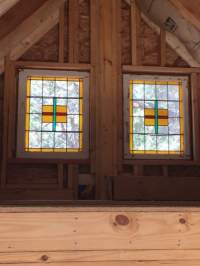 The church pew was purchased at a local estate sale, one of the first "signposts" during construction. When we decided to create a loft above the bathroom and windows were needed, I practically stumbled over signpost number three, the two stained glass windows at Wimberley Market Day. The wood framed mirror in the bathroom came out of a Catholic seminary in California according to the seller on Facebook Marketplace.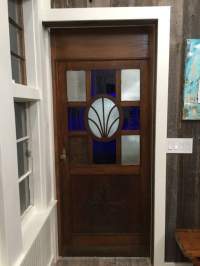 A vintage door similar to what was used as the side entry door to the chapel was planned for the bathroom opening before the stained glass door "popped up" on my Facebook feed. It was significantly more expensive than an old door with peeling paint, but the stained glass cross and the wood cross on the bottom portion of the door is a fitting statement for a chapel. The seller, an antique dealer said the door had come from Czechoslovakia (now Czech Republic). People were much shorter and smaller when the door was originally made. Steve commissioned a local Wimberley carpenter to create a frame around the door to protect the integrity of the antique (more than doubling the cost.)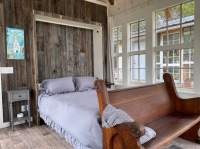 The problem of where to move the bed when converted to a chapel was solved by building a Murphy bed. A pine cross is inlaid in the rough cedar of the Murphy bed. And speaking of the rough cedar bed and accent wall, one would never-in-a-million-years guess where the cedar is from: no, not the Cedars of Lebanon. The rough cedar is recycled fencing from MoPac Expressway (Loop 1) in Austin, Texas. It was removed in 2017 when the toll road was under construction.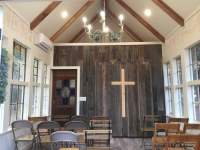 Oh, if "these walls could talk" they have seen a lot of road!
Add comment
Recent Articles