Musings and Wandering Around the Wimberley Square
Belinda Howard Smith
Share this page: Facebook LinkedIn Pinterest Twitter
Musings and Wandering Around the Wimberley Square
Things to Do and See
Part 1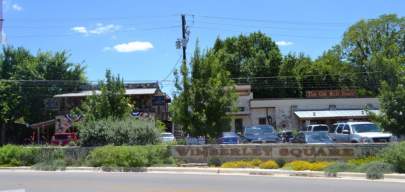 The Wimberley Square adjacent to the beautiful Cypress Creek has it all! It has a Texas Cultural Art District with several art galleries such as Art on 12, Pitzer's Fine Art and Wildflower Art Gallery where visitors can meet the artists and their work. Art in its many forms such as glasswork, jewelry, bronze sculpture, mixed media, photography, painting, and writing are featured. On the second Saturday of each month is the Wimberley Gallery Trail where the art galleries are open later and offer complimentary wine and food.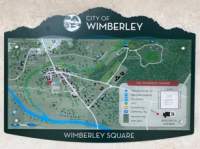 What makes Wimberley distinctive is the absence of chain restaurants and retail. Within the Wimberley Square are several chef-owned restaurants, boutique shops, live music, and wine tasting - all within walking distance. It's also dog-friendly with many shops welcoming pets. Restaurants all have outdoor seating as well as the coffee shops and wine tasting venues and typically offer water bowls for Fido.
Walk along the creek's edge where centuries old Cypress trees overhang the creek. You will find yourself in the Cypress Creek Preserve and can easily follow the trail along the creek's edge all the way to Blue Hole Regional Park. Be sure to see its iconic swimming hole.

If you're in the Wimberley Square at dusk, you may be fortunate to watch the bats emerge from under the bridge. Creekhouse Kitchen and Bar or Chill's on the Creek are nice locations for bat watching.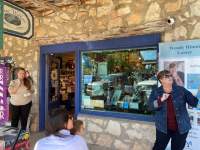 There are so many sights and sounds as you walk along the shops. The Blue Willow has home décor, tee shirts, specialty foods and children's books. Recently they hosted author, Wendy Hinote Lanier to read her book, "Too Many Pigs in the Pool" just outside the store for the children passing by.
Just beyond The Blue Willow is Ceremony Botanical Studio with more succulents than you have likely ever seen in one location outside of a desert. Ceremony has single-handedly revitalized the flora on the Square. Visually feast on the numerous varieties and size of succulents in the most unique recycled containers. Ceremony offers workshops and other services. Enjoy live music from the rock stage right outside of their welcoming shop.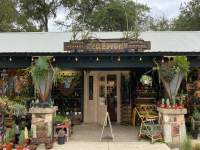 Walk a few doors down and you're just outside of In-Style Shoes where you will likely find the Jacobs hand painting stones. Texas Rock Art, an outdoor shop offers decorative rocks for landscape and welcome signs. Select a personalized rock for yourself or the perfect housewarming gift. Of course you need to stop at In-Style. You're right there. It's surprising that a small town has such an amazing shoe store filled with stylish, comfortable walking shoes! (Be sure to visit their sales clearance room in the back.)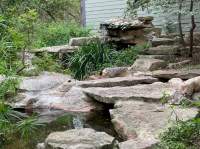 Just beyond In-Style Shoes is Martha Knies Community Park, a nice little park with a playground, water feature, and restroom tucked between the shops. It's also an entry point to the Cypress Creek Preserve. Rest in the shade on a bench or picnic table and enjoy the water feature while the kids burn energy on the playscape.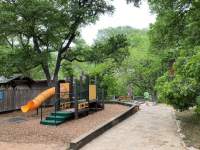 If you're getting hungry, further down is Community Pizza and Beer Garden. The name is their mission: community. Sit inside or out under the covered awnings and enjoy food and conversation while the kids explore their unique playground. If there is a must-see ballgame while you're out, dine, drink and watch the big screen TV across the street at The Let Go.
If you're considering a girl's trip to Wimberley, BellaVida Bed and Breakfast offers a variety of rooms that sleep 2-5 people, two huge screened porches for sipping wine and conversation.
Stay tuned for Part two of more places to explore in the Wimberley Square. Go to our Events Page for a calendar of festivals and events in the Wimberley, New Braunfels surrounding area.
Add comment