Things to Do and See the 4th of July Weekend in Wimberley, Texas
Share this page: Facebook LinkedIn Pinterest Twitter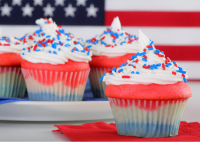 Things to Do and See the 4th of July Weekend in Wimberley, Texas
There is so much to do in the Wimberley area for the 4th of July that it's difficult to know where to begin!
The best news: Independence Day falls on Sunday and you will be able to take advantage of a long weekend.
First, a quick calendar of events and then on to other ideas of things to do and see in the Wimberley area for the holiday weekend.
Calendar of Events
Thursday, July 1 – 5:50 – 8:30pm "Moved by Music Concert & Sing-a-long," sponsored by First United Methodist Church. Food provided by Chef Jay. Bring lawn chairs and your own drinks and treats.
Friday, Saturday & Sunday July 2-4, 75th Annual Oldham Cummings VFW 6441 Rodeo
Gate opens at 5:30pm, 1st Mutton Bustin Event at 7:00pm, Rodeo 8:00pm
Free Fireworks Show at the conclusion each night.
Saturday, July 3 – Wimberley Market Day opens at 7:00am (Yep, shop while it's cool-er) 450-+ open-air booths.
Monday, July 4 - 10:00am -1:00pm Independence Day Parade
Monday, July 5 - 3:00pm "A Tribute to America" by the Hill Country Community Band, First Baptist Church
Tastings: Breweries, wineries, and a rum distillery are all within a 15-minute driving distance of one another. You can also do some fine wine tasting on the Wimberley Shopping Square at The Tasting Room and Los Olivos. Eateries such as, Community and Los Olivos have a wide selection of Texas craft beer.
Live Music & Food: Many eateries offer live music. A personal favorite: Hays City Store. For finer dining, Linda's Fine Food on FM2325 and Longleaf on the Wimberley Square. Breweries such as Middleton's have music and a food truck. Savage's Bar & Grill at the Junction of Highway 12 and Highway 32 has food and music, or you can catch some Tex-Mex right next door at Milagros. And, what's the 4th of July without barbecue? Locally is Creekside Cookers on River Road for mouthwatering brisket and sausage with all of the sides plus live music. Or, head over to the infamous Salt Lick on FM 1826.
Watch the Sunset: Overlooking the Valley at The Shady Llama on Highway 12, you can take your kids and dogs. Or, head on up Elder Hill Road right off Highway 12 and watch the sunset sipping wine at Driftwood Estates Winery.
Shopping: The Wimberley Square and surrounding side streets offer the things you didn't know you couldn't live without. Specialty shops such as the In-Step shoe store boast comfortable, stylish shoes. Be sure to check out their sale room! Kiss the Cook will inspire anyone with a culinary desire. Papa Hoos Popcorn will satisfy a savory or sweet tooth and if not, there's The Candy Store located between two coffee shops. Between the caffeine and sugar you'll be ready for some serious hiking. Though not before you've strolled the art galleries or found a treasure at one of the numerous resale shops.
Hiking and Swimming: If you've not made reservations to swim, you're likely out of luck at the ever popular Blue Hole Park and Jacob's Well. However, you can still hike the parks. Blue Hole offers more shade and friendly on the quite young feet and older feet with its miles of natural trails. Old Baldy offers a steady climb up the stairs to the top for a panoramic view. If you're not in shape, fake it by stopping along the way up and take in the beautiful view while you catch your breath. Emily Ann Gardens right across the highway from Old Baldy has a more gentile climb. You can also enjoy the trails and there are interactive displays for children. If you don't have a place to swim, try your luck for a day pass at Cypress Falls Event Center located on Cypress Creek in Woodcreek.
Have a safe and happy visit to Wimberley!
Add comment
Recent Articles