How to Make Succulent Pumpkin Arrangements
Belinda Smith
Share this page: Facebook LinkedIn Pinterest Twitter
How to Make Succulent Pumpkin Arrangements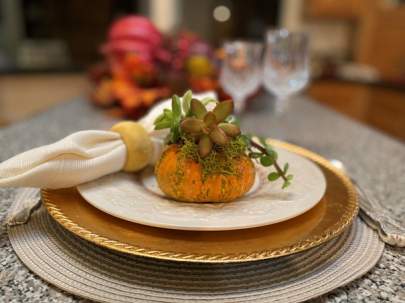 Setting a beautiful table creates the atmosphere for dining. Guests sense elegance, creativity,and the effort made for them feel special.
Autumn brings a sense of change. Summer is gone and winter is on the way. Earth's color palette changes. Fallen leaves, pumpkins, and rich colors of Chrysanthemums adorn tables.
I enjoy succulents and I adore the popular pumpkin succulent arrangements! The full size pumpkins with the succulents on top are stunning. However, I wondered, why not create some minis for place settings on an autumn table setting for guests to take home, or as small gifts?
They are so simple: no cutting required. In fact, because you do not cut into the pumpkin, they will last for months.
Here are the supplies you need: pumpkins, variety of small succulent cuttings, scissors, glue gun and sphagnum moss.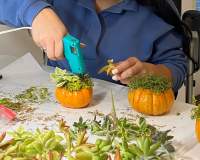 Instructions:
1.Hot glue sphagnum moss on the top of the pumpkin leaving some long strands of moss.
2.Arrange succulent cuttings on the top in a balanced, eye-pleasing way. Be sure to turn the pumpkin to assure it looks nice from all sides.
3.Hot glue the succulent stems into the pumpkin. The hot glue will not affect the health of the succulents. These hearty plants will root right through the glue.
4.Clean off any stringy glue from the arrangement.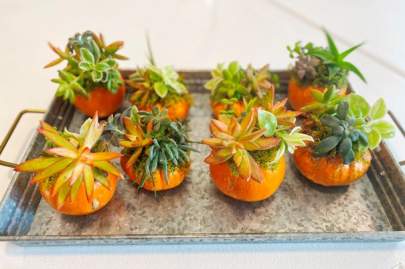 Water plants directly at the stem or root of the plants once-a-week using the stream option on a spray bottle or a plastic squeeze bottle. The moss will retain some water to help the succulents root. Avoid spraying the leaves. Succulents like sunshine, so set them in a sunny window, or outside to get some sun. When the season has ended, replant the succulents. The pumpkin can be split open and left outside for wildlife to eat.
Guests who stay at BellaVida Bed and Breakfast are surprised to see a different set of tableware at breakfast each morning. Did I fail to say that I just might be addicted to collecting dishes for a beautiful table setting? We hope you will come and see for yourself!
Add comment