How to make a China Plate Wreath
Share this page: Facebook LinkedIn Pinterest Twitter
How to make a China Plate Wreath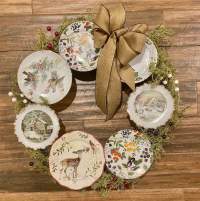 It only seems fitting that when the Chamber of Commerce needs an auction donation for the annual Winter Wonderland fundraiser, BellaVida Bed and Breakfast would donate a wreath of decorative plates. We love dishes and beautiful table settings, and the idea of creating a wreath with some favorites is all the inspiration required!
The best part, China plates are attached with plate racks and the plates can be alternated for different seasons or holiday themes. For the auction donation, plates were selected with a winter theme and neutral colored burlap ribbon for versatility.
Do you think I made just one wreath? Of course we needed one for BellaVida Bed and Breakfast with some of our favorite rooster plates.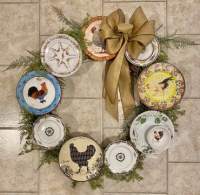 Stay at BellaVida Bed and Breakfast and use our Gathering Room tables (with free assistance if you want it) to craft and create. Bring the needed supplies. If you don't have the desired China plates, Wimberley is a treasure of thrift and resale shops! Wimberley Map of Resale Thrift Shops.
HERE'S A WIN-WIN:
To create a wreath you will need:
grapevine wreath
wire wreath
wired ribbon
7-9 bread and butter or salad plates (those with a design in the center of the plate work best)
7-9 plate racks
wire for attaching plate racks to wreath
artificial garland, assorted greenery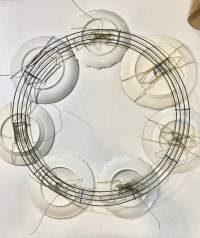 DIRECTIONS
1. Try various arrangements of plates on the wire wreath. It's amazing the difference switching the order makes in the overall look. It's OK to have repeats of the same plate patterns.
2. Place a wire rack onto each plate.
3. Wire the plates to the wire wreath leaving enough length of wire to attach to the grapevine wreath.
4. Wire the wire wreath of plates to the grapevine wreath.
5. Wrap a garland of greenery along the outer edge of the plates tucking greenery between the plates.
6. Add greenery and embellish to your liking.
Stand back and admire your new creation!
Add comment