Do you Dream Big?
Belinda Howard Smith
Share this page: Facebook LinkedIn Pinterest Twitter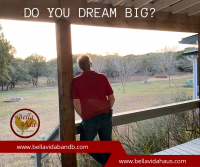 Nine years ago, Steve and I submitted an offer to purchase a house on eight-plus acres just outside of Wimberley, Texas with a vision of starting a bed and breakfast that would also accommodate small retreats.
It did not begin with a huge dream followed by a formalized written business plan. It began as a subconscious, impulsive statement I made to Steve while we were celebrating an anniversary six months earlier. I said, "Someday, when you retire, I would like to buy a place in a small town, where we could have a garden and a maybe have little bed and breakfast."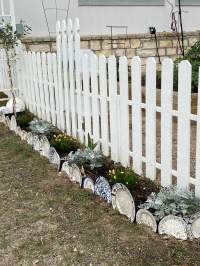 We are now headed into year ten, and it's not what I envisioned at all. I don't casually putter in a garden and owning BellaVida Bed and Breakfast is anything but "small." I dream up more projects than we could ever accomplish, though good-natured and talented Steve has accommodated me on most of them.
Among the larger projects in nine years we added onto the house we named BellaVida,which means "beautiful life", our private living quarters and a 6th bedroom for guests. We covered porches, screened them and added a pergola. We built the beautiful Howard Chapel, a lovely private lodge in honor of my parents. (It also converts to a chapel.) BellaVida has a total of six bedrooms and can sleep up to 18 people.
Last year we sold our home in Austin and purchased a home on the outskirts of New Braunfels as a short-term rental,many refer to as an "AirBnB" we named BellaVida Haus. With it came a few more "projects" for Steve including an outdoor shower near the swimming pool.
Steve didn't retire nine years ago. He continued to commute from Wimberley to North Austin for five years. (Someone has to pay for the projects!) When working our tails off we often repeat out loud, "We're living the dream, we're living the dream!" We love every minute of it. Well, OK, most every minute of it.
Our lives are enriched by our guests. They come as strangers and leave like family. This is true. I "should have" kept a journal to remember the journey. We have enough love stories, humorous stories, and heart-warming stories to write a book!
What about you? Are you dreaming big? Are you living your dream? Forget the endless planning and organizing ideas. Just start!
I am often asked, "Did you have any experience before you started a bed and breakfast?" My short answer: "We have six kids. I made a lot of beds and cooked a lot of breakfasts!" Actually though, my life experiences led me right here. That's a whole 'nother story!
Again, what about you? Where are your life experiences preparing the way for your dream?
Add comment