A Visit to Arnosky Flower Farm
Share this page: Facebook LinkedIn Pinterest Twitter
A Visit to Arnosky Flower Farm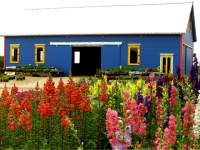 Just a ten-minute drive from BellaVida is Arnosky Family Farms – recognizable by its big blue barn. Each spring I eagerly anticipate its opening after a short winter's rest. And by "short winter" the saying around here is, "we have two seasons, hot and hotter!"
A visit to Arnosky's lifts my spirit from the drab of winter into the new life of spring! Gaze upon the fields - a visual feast of red poppies and zinnias that beckons a colorful photo backdrop.
Then step into the big blue barn to simply enjoy buckets of fresh harvested flowers or select a mixed bouquet to take home. There are hanging baskets of colorful geraniums and starter plants for a vegetable garden. You can feel the vibe from the casual setting, fresh eggs for sale, buckets of flowers and the casual form of payment, the honor system by placing cash or check into a box attached to the wall.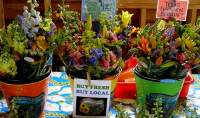 Throughout the heat of summer and into fall, visitors can revisit Arnosky Family Farms and enjoy the sunflowers and other seasonal plants that thrive in the Central Texas sun. This self-service flower farm is open daily 9-3 with Thursdays and Sundays being the best days to visit.
Owners Pamela and Frank are active in the promotion and education of cut flower growing and members of the Association of Specialty Cut Flower Growers. They have hosted many educational tours at their farm and speak nationally at various farming conferences and events. You may enjoy reading more about their history on their website.
If you want to continue a day of enjoyment and education of growers in the Wimberley Valley area, a Bonsai Exhibit and lavender farms are nearby.
BellaVida guests can order a charcuterie box to take along for a nice picnic. We offer free use of picnic accessories and would love to help you prepare for a casual day out.
Add comment
Recent Articles