A Pulpit, a Pew, and a Pair of Windows
Share this page: Facebook LinkedIn Pinterest Twitter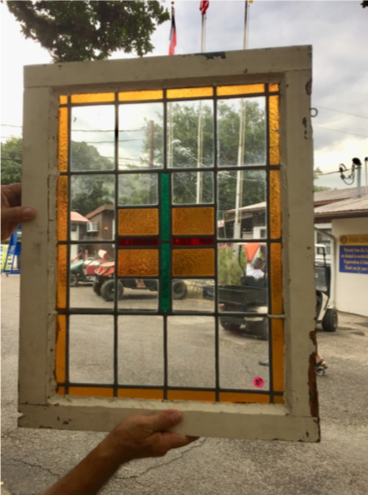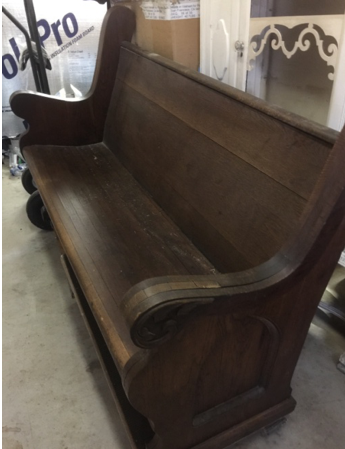 I wanted a large greenhouse. I envisioned it as a place in cooler seasons for guests to enjoy a massage. A greenhouse with a farmhouse table for a brunch, perhaps an intimate wedding, and in winter it would keep our numerous potted plants safe from a freeze.
And I wanted to cover part of the front porch with a pergola and a section, covered and screened. I could see guests enjoying an evening sitting on the porch swing or at a table enjoying a game of cards –an old fashioned kind of evening, like days gone-bye.
"Did the carpenter come to give us a bid?" I asked my husband Steve.
"Yes. I told him we wanted it all" he answered.
Shocked and excited, especially about the front porch. I have a clear vision of what both projects would look like. I am a dreamer, a thinker. I don't live with background noise. I have enough in my head. The wheels are always turning, turning with thoughts and ideas.
Then Steve said, "It's too much money to spend for a greenhouse. It needs to be a bedroom for bed and breakfast guests." So, we measure out how much foundation we need for a bedroom and bath. The workers begin and I have no vision of what this is to look like. I'm asked where I want electrical outlets and light switches, which is a huge challenge.
One, I have no clear vision. Two, my greenhouse turned chapel-on-the-outside and cottage bedroom inside is almost all glass - vintage windows I had collected for a greenhouse. I'm flying by the seat of my pants on this one and frankly, I'm not that kind of girl.
I was in Rescued Relics Resale, a local resale shop, and could not pass up the oak pulpit that was formerly in the First Baptist Church. The price was right and in sentimentality: priceless. Several ideas are churning. Stay tuned for how it will be repurposed
Make the break here, make the following the 2nd part:
More decisions are required about wall materials and light fixtures. I have no idea. I'm beginning to question if we are supposed to be building this at all. It wasn't a dream. It wasn't a thought out plan. What am I doing?
A shot of caffeine is good for the brain. On my way from Sip on the Square, I saw an estate sale sign. I followed more signs until I reached the chaos. Oh, my! I found some treasures. One of them was an old church pew. and I can see it at the foot of a queen size bed!
Now we have a pulpit and a pew for our chapel on the outside and cottage bedroom inside.
Our little chapel has its roof. The inside is arched with exposed beams. The bathroom wall is up and I'm wondering when the ceiling goes above the bathroom what happens to the arched space above it. "Closed in" I heard. What woman could live with the idea of dead space behind a wall?
"Can we leave it open as a loft so we can see all the way through to the trees?" I asked. Steve is a smart man and knows when his wife has a vision.
The challenge: In all of the leftover vintage windows we do not have two the size required for the loft. I search resale shops and make contact with people who stock vintage windows. No luck. I scour online garage sales and social media posts. No luck.
There is an opening left for the future windows and the carpenters cannot continue the siding without them. We're desperate for two identical, or closely matched old windows.
On Saturday I leave for Wimberley Market Day. My goal is to head straight to the Information Booth to learn where I can find vintage windows. I have my eye on the destination when the sight of stained glass windows catches my attention. Two of them. The right size. Stained glass with a cross in the center.
A pulpit, a pew, and a pair of windows. Now I don't have to wonder if I should be building this little chapel on the outside and cottage bedroom on the inside.
Pop on over to our web site and take a LOOK HERE
To book your stay, give us a call or BOOK ONLINE
Add comment
Recent Articles