Unleash Your Creativity
Belinda Howard Smith
Share this page: Facebook LinkedIn Pinterest Twitter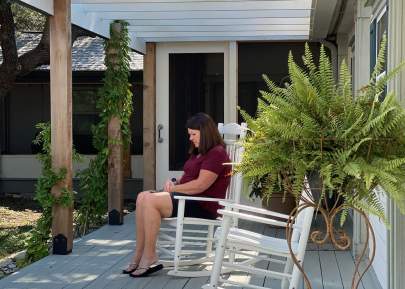 Unleash Your Creativity: A Retreat for Creative Women
In the heart of the Texas Hill Country, lies a hidden gem that promises an unforgettable escape for women who thrive on creativity. BellaVida Bed and Breakfast Retreat Center just outside of Wimberley, on 8 peaceful acres offers a haven where scrapbookers, paper crafters, painters, writers, and quilters can come together to CONNECT and form lasting bonds with like-minded individuals, CREATE and CELEBRATE the bonds of friendship. Explore the benefits and delightful experiences that await: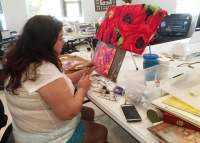 Nurture your Creative Soul
BellaVida B&B is a safe haven designed to nurture your creative soul. Surrounded by the serene beauty of the Texas Hill Country, you'll find the perfect backdrop for indulging in your artistic passions. Our retreat center provides a variety of well-equipped crafting spaces, each tailored to the unique needs of scrapbookers, paper crafters, painters, and quilters. Whether you're looking to piece together a quilt, design intricate scrapbook pages, bring a canvas to life, or craft stunning paper creations, BellaVida offers ample space and resources to tell your story, your way.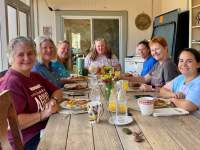 Gourmet Breakfasts: A Feast for the Senses
Each morning, indulge in a hearty breakfast served on the huge screened porch. The table is adorned with fresh flowers often from our own garden, cloth napkins, elegant tableware, and vintage flatware add an air of simplicity and Southern hospitality. We want you to feel cherished and pampered for the unique individual you are!
A Relaxing Getaway
While the focus is on creativity, BellaVida also offers the opportunity to unwind and relax. Take a break from your projects to explore the property: walk the trail, engage a friend to ride the trike-for-two, take a nap. It's your time away! Wimberley itself is a charming town with quaint shops, art galleries, wineries and nature trails, providing a perfect balance between creative immersion and leisurely exploration.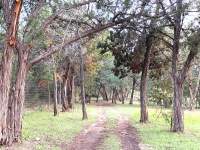 For women who find solace and joy in creativity, a retreat at BellaVida Bed and Breakfast Retreat Center is a transformative experience waiting to unfold. From fostering your artistic talents to forming lasting friendships, this haven of creativity promises a rejuvenating escape that will leave you inspired, refreshed, and eagerly counting down the days until your next visit. Unleash your creativity, connect with like-minded souls, and celebrate the journey of self-discovery at BellaVida. Your artistic joy awaits!
Host a retreat with friends, or register for a retreat or event on our website.
Add comment