8 Free or Budget Friendly Things to Do in New Braunfels – Wimberley – Blanco Area
Share this page: Facebook LinkedIn Pinterest Twitter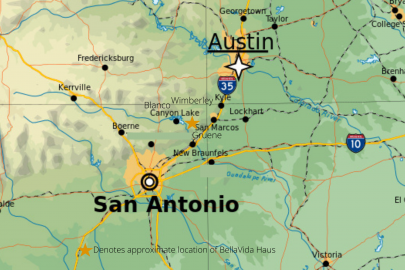 1. Visit Arnosky Family Farm – at the intersection of FM 2325 and FM 165, sits a big, blue barn almost hidden by the trees. Inside you'll find freshly harvested flowers. Simply enjoy their beauty and breathe in their lovely aroma, or select several of your favorites and drop payment in the honor-system box. Be sure to get a selfie outside with rows of growing, colorful flowers. Often there's a nice breeze on the barn's back porch for a nice place to picnic.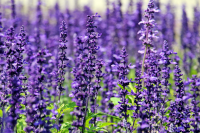 2. Hill Country Lavender – right across the road from Arnosky's also on the corner of FM 2325 and FM 165 is a small lavender farm. Wander alongside the growing lavender plants. A nice little gift shop offers lavender products such as body cream and soaps. Lavender printed tee shirts and shopping totes are also available. It's a nice place to purchase something to take back to someone special.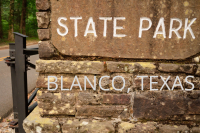 3. Blanco State Park – Take a cool dip into the spring-fed Blanco River in the heart of Blanco, Texas. Enjoy swimming, boating and fishing. Fishing rods are available to borrow at park headquarters. Tubes are available for rent. Hike along the one-mile area of the river for quick access to cool off from the summer heat. Park access: adults $5, children under 12 free.

4. OroBianco Italian Creamery - In downtown Blanco, OroBianco offers small batch gelato and dairy products made from the milk of their water buffalo fresh from the ranch. Free tastings of distinctive cheese and cured meats. The gelato, cheese, and cured meats are available for sale. This is truly a "try before you buy." It's a unique tasting experience along with their wine offerings.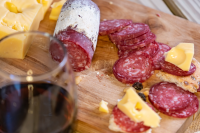 5. Wimberley's Cultural Art District – Wimberley has numerous art galleries within walking distance in the city's square. Mixed media, paintings, sculpture, handmade jewelry, and photography are among the treasures of art. Visit the showroom of Wimberley Glassworks on Highway 12 of hand blown glassware, bowls, vases and more. Sit and observe glass blowing for a true appreciation of the art. The Second Saturday of each month on the Gallery Trail, galleries stay open a little later with many of the galleries hosting a special exhibition of work, live music, demos by one of their artists, and often offer wine and food to the patrons.

6. Bootiful Wimberley – Boot scoot through Wimberley to see the nearly 50, dazzling, 6 foot tall hand painted boots. Each artist's rendition depicts the sponsoring business. There's a photo op at every stop!
7. Tubing on a River! – Get a break from this record heat tubing down a river! There are three rivers to choose from, all within close proximity. The San Marcos River's crystal clear water runs right through the heart of San Marcos. There is no charge to get in the river for swimming, canoeing and tubing. There are rentals in the area if you don't have your own. Here's a map several points of access for the San Marcos River.

Both the Guadalupe and Comal Rivers run through New Braunfels. Access to the river is free from New Braunfels parks. For those who prefer a livelier experience, there are numerous tube rental and shuttle operators with fees of $25-45 per person for the day.
8. Historic Gruene – Stroll the partially shaded streets and step back into time at Gruene General Store for and old fashioned soda, or enjoy perusing the nostalgic merchandise. Across the street is Gruene Hall, the oldest dance hall in Texas, built in 1878 where you can hear the live music from a nearby bench, or purchase tickets and dance in the open air iconic hall. Right next door is the infamous Gristmill Restaurant known for its chicken fried steak and Jack Daniel's Pecan Pie. Originally a gin built in 1878 the towering Gristmill is a dominant icon in Gruene where you can also enjoy a great burger while watching the tubers float by on the Guadalupe River right below your table. Gruene offers a variety of specialty shops, leather goods, wine tasting, and restaurants. Old Gruene Market Days are held the third full weekend of each month and features nearly 100 artisans.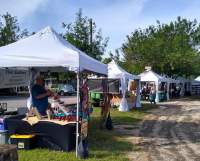 If you are searching for lodging options BellaVida Haus is a short-term rental (AirBnB) located 8 minutes from Historic Gruene in New Braunfels and about 20 minutes from Wimberley. BellaVida Bed and Breakfast is just outside Wimberley city limits headed towards Blanco, Texas on 8+ quiet country acres. Both are ideal for girls trips, couples, stays and retreats.
Add comment