10 Things to Do to Beat the Texas Heat in Those Dog Days of Summer
Belinda Howard Smith
Share this page: Facebook LinkedIn Pinterest Twitter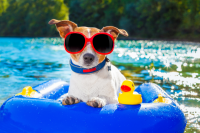 Dog Days of Summer
Most have heard the term, "dog days of summer" but what does it actually mean? It's the period between July 3 and August 11, in the Northern Hemisphere when summer has reached the peak of those long, hot humid days.
This is an interesting concept because those of us in Central Texas and other similar regions of the US won't find relief until quite possibly mid-October. I read a recent social post where a newcomer to the area asked when does summer end in this area? (Austin-New Braunfels-San Antonio) The replies were hilarious! You can read some of my favorite ones here.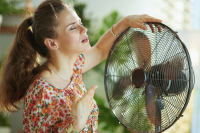 Though August and September are still, to be truthful, miserably hot, there are still plenty of enjoyable activities to do in the Wimberley area. Here are ten suggestions to help make the most of enjoying life while staying cool:
10 Things to Beat the Heat
Wimberley Glassworks: Experience the art of glassblowing and watch skilled artisans create beautiful glass pieces. The gallery is air-conditioned and provides a unique indoor experience. The large showroom offers interesting glass art such as hummingbird feeders, vases, glassware, flora, and gorgeous lighting.
Live Theater: The Wimberley Players opens "A Streetcar Named Desire" which runs September 1-24. This American classic by Tennessee Williams is theatre at its best!
Bingo: offered every Friday night at The VFW hall. Enjoy family friendly fun along with food and prizes.
Art Galleries: Wimberley is a designated Cultural Art District and you can visit several art galleries within walking distance in the Wimberley Square. On the Second Saturday of each month, most galleries stay open later and offer complimentary beverages and food.
Happy Hour at Wimberley Ace: Every Friday 4-6 pm free popcorn and fountain drinks. Shop at one of the best home décor departments in town! If you're a local, it's the place for Wimberley Texan gear!
Sweet Water Cookies Decorating Class – Saturday, September 23, hands-on experience decorating beautiful sugar cookies. Learn several techniques and take your tasty decorated cookies home!
Live Music at Susanna's Kitchen – enjoy an intimate evening with a local musician in concert while supporting non-profits.
Shopping at Wimberley Square: Explore the unique boutiques, art galleries, and shops in the charming Wimberley Square. You can enjoy some retail therapy while escaping the heat. Step into one of the many tasting rooms, such as Hill Country Wine Shoppe, Social, or Ranch Brand Wine and Spirits. To satisfy a sweet tooth, stop in The Wooden Spoon for frozen yogurt and toppings or Candy Cottage where you will enjoy reminiscing candies from childhood.
Wimberley Zipline Adventures: Experience the thrill of ziplining through the canopy of the Hill Country. The shaded tree cover provides a cooler environment.
Girls Trip: Gather your gal pals for a day trip, or a retreat at BellaVida Bed and Breakfast. In addition to the suggestions above, enjoy an indoor art workshop, wine tastings, or spend girl time together in BellaVida's Gathering Room for late-night chick-flicks and margaritas, or sipping on the screened porch. For those who craft, scrapbook, or quilt, BellaVida offers the perfect environment with comfortable seating, workspace and task lights. We are happy to arrange transportation to wineries and other activities.
Whatever you choose to do to beat the heat, remember to stay hydrated and take necessary precautions when spending time outdoors in the heat. Take advantage of outdoor attractions that have shaded areas or indoor spaces where you can take breaks from the sun.
For some humor, read our blog post of locals answering when to expect heat relief.
Add comment